Getting started
WebHare Publisher is the core of the WebHare platform. In WebHare Publisher you can easily keep one or more websites up to date without any technical expertise. After a short introduction, anybody can work with WebHare Publisher.


OUT-Of-The-BOX performance
WebHare is much more than merely a CMS. After logging in to the management portal you will find a start menu with several applications installed:
WebHare Publisher: the Content Management Systeem
WebForms: custom user-friendly forms
WebHare Newsletter for professional mailings
WebHare user management
The applications are easy to use and work together seamlessly. Together we decide which applications are needed for a custom online product tailored to your needs.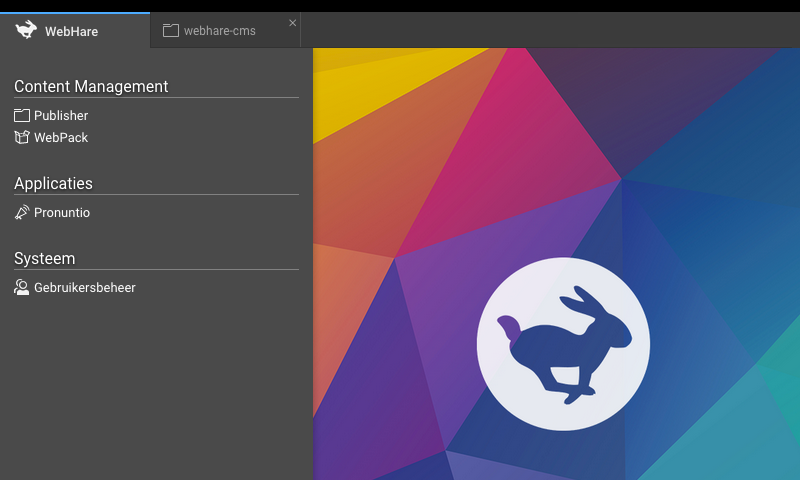 IF YOU KNOW HOW TO HANDLE FILES AND FOLDERS and know your way around a text editor, you can keep a webhare site up to date
Folders in the Publisher make up your website's menu, and the files are your pages. The order in which the items appear on your website is also visible in the Publisher - so you always know exactly where in your website you are.
WebHare editor 
The WebHare Rich Text Editor does what you can expect from an online editor, and so much more
Copy and paste text from web pages or MS Word straight into the WebHare editor
Images and videos are displayed in responsive websites automatically in the correct size
Flexible inline components allow for easy enrichment of your web pages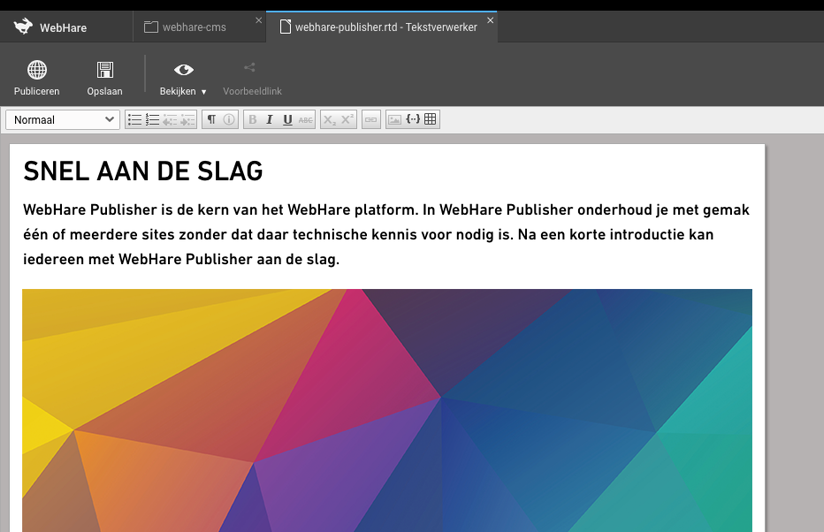 Flexible inline components
A classical CMS often works with rigid templates for 'subhome' and 'landing pages'. WebHare prefers to use flexible inline components, available on every page.
It's a tool box of ready-to-use virtual building blocks, tailored for your unique WebHare site.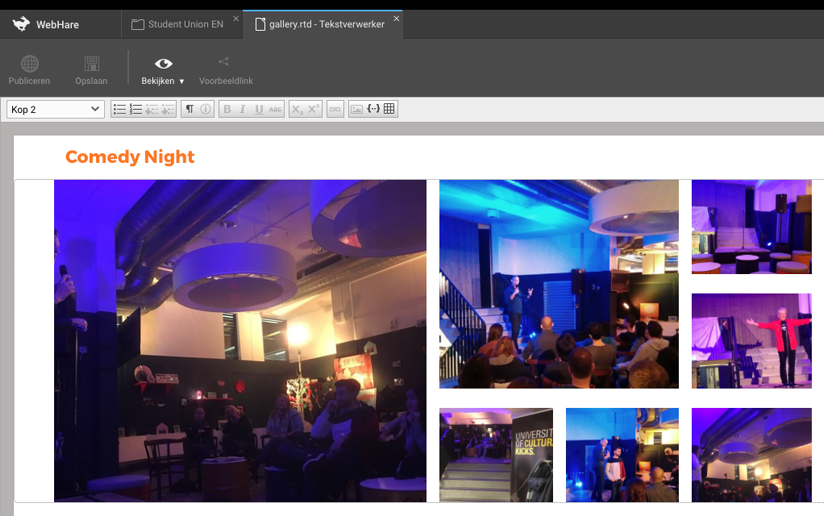 SAFE

WebHare is an extremely safe CMS. WebHare websites are always up-to-date; we regularly update without any implications for the websites. The WebHare architecture makes hacking our system extremely hard.
HOSTING

WebHare sites are hosted on servers with lightning fast SSD disk drives. Our hosting locations are ISO9001:2008, ISO27001:2005 and ISO22301:2012 certified. WebHare is known for quick and accurate user support. 
SEO OPTIMIZED
WebHare supports all important SEO demands made by Google. Most of these are taken care of without any user input. WebHare also has the expertise and techniques for cutting edge online marketing.
Responsive preview
WebHare Publisher allows you to easily check the page layout on different devices: desktop, laptop, tablet, mobile)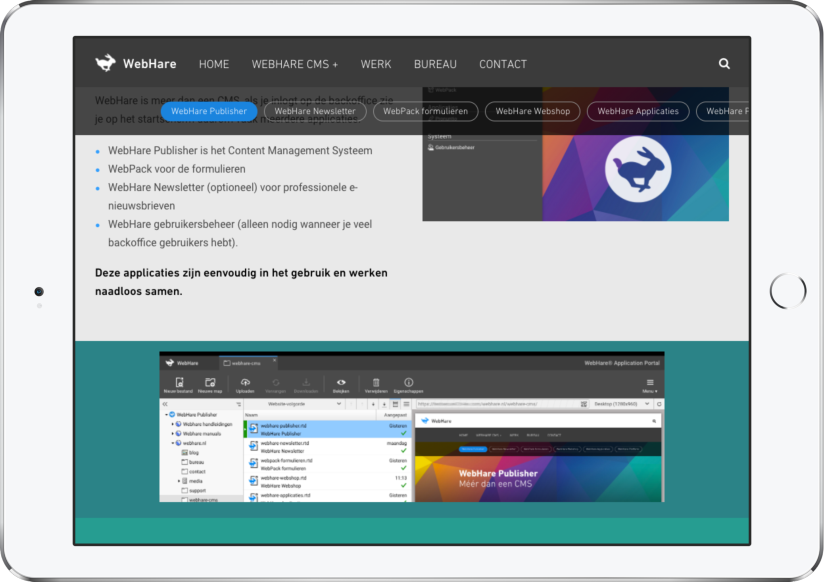 WANT TO KNOW MORE ABOUT WEBHARE PUBLISHER?
We have only mentioned a few WebHare's features - the possibilities are endless. Want to know more about the WebHare Publisher CMS? Contact us!